A fun and friendly, age-qualified RV resort in Casa Grande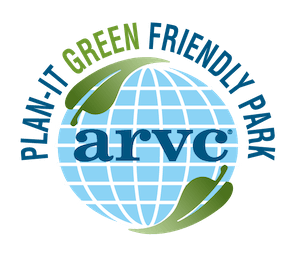 At this age-qualified community, Fiesta Grande's guests find that the park offers all kinds of amenities to ensure a comfortable and relaxing stay. Centrally located between Phoenix and Tucson, this RV resort in Casa Grande pays close attention to the wants and needs of every guest. Two heated swimming pools, a jacuzzi, lounging area, and an inviting dance floor are just a handful of amenities that invite our guests to make a return visit.

Whether you're looking to relax, socialize or enjoy some friendly competition, our resort offers something for everyone. Fiesta Grande RV Park boasts an extensive lending library, eight shuffleboard courts, eight horseshoe pits, a pool hall with six tables, ample card rooms, and plenty of other opportunities for activity. Our activity coordinator delivers a diverse set of programs including dances, classes, dinners, tours, golf, and craft projects.

Our services are unlike any RV park you've visited. Private mailboxes, planned activities, Internet access and a friendly staff are a few of our attractive services. We are located within easy walking distance of grocery stores, banks, restaurants, and several shopping centers such as Walmart and Home Depot. Don't miss out on a trip to Fiesta Grande RV Resort! We promise you will not be disappointed.
Find your Home Away from Home with a Seasonal or Annual Site!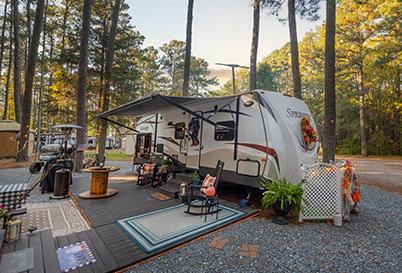 Take a break from the hustle and bustle of everyday life with a seasonal or annual site! Begin relaxing as soon as you arrive without having to set up and break down each time you want to vacation. Your site and a community of friends will be ready to welcome you back time and again. Some benefits of having your own seasonal or annual RV site or vacation home include:
A guaranteed spot of your choice at our resort
A way to spend even more time being active and social outdoors
A discounted yearly rate compared to daily or seasonal rates
A sense of community with other annual site guests
Don't miss the opportunity to secure your spot, make lifelong friends, and make our campground your true escape from the everyday.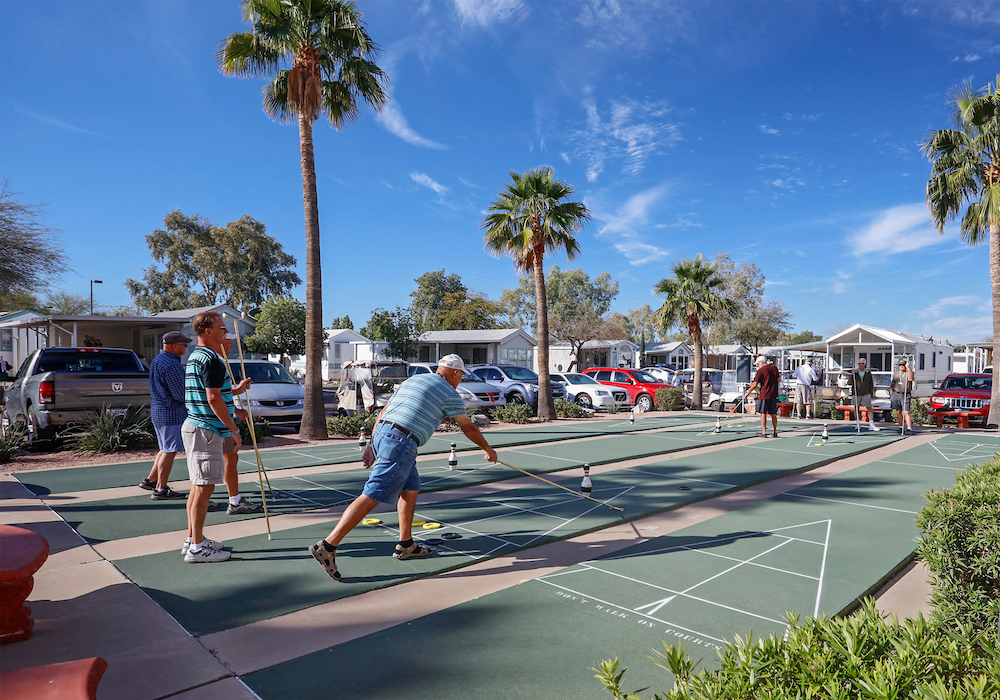 Amenities
Woodworking Shop

Craft Room

Putting Green

Cornhole

Clubhouse

Shuffleboard

Swimming Pool

Whirlpool/Spa/Hot Tub

Fitness Center

Pets Welcome

Nature / Hiking Trails

Mini Golf

Restroom/Shower Facilities

Laundry Facilities

Picnic/BBQ Area

Volleyball

Horseshoes

Ballroom/Banquet Hall

Billiards/Game Room

Library

Business Center

Pickleball

Bocci Ball

Private Mailbox/Mail Center

WiFi Hotspot
Activities
Whether you're planning a retreat for a group of friends or a getaway for two, there's no shortage of unique activities to explore at Fiesta Grande RV Resort. Plan activities upon arrival or visit this page before your departure to plan ahead. Looking for more? Our friendly staff can fill you in on all of the great ways to make your stay a memorable experience.Note: Items marked with an asterisk (*) are during season only events.
Activities Center
Arts & Crafts
Card Room
Co-ed Water Aerobics
Creative arts and crafts classes and projects
Dancing
Jam Sessions & Karaoke *
Live Entertainment
Exercise Classes
Community Food Events
Tournaments
Woodcarving
Activities Director
Licensed Bingo *
Non-licensed Bingo
Church Service (Non-denominational)
Granny Basketball *
Ballroom with stage
Hiking Club *
Line Dancing - Beginner to Advanced
Men/Women Golf League *
Planned Outings
Pool Tournaments *
Solos (Singles) Group
Pickleball
Tap dancing *
Water Volleyball *
Senior Softball League *
Shuffleboard
Morning Coffee/Tea
Flute Circle *
Wii Bowling
Drama Club *
Yoga
Monthly Birthday Celebration
Happy Hours *
Quilting Club *
Talent Shows
Tag Alongs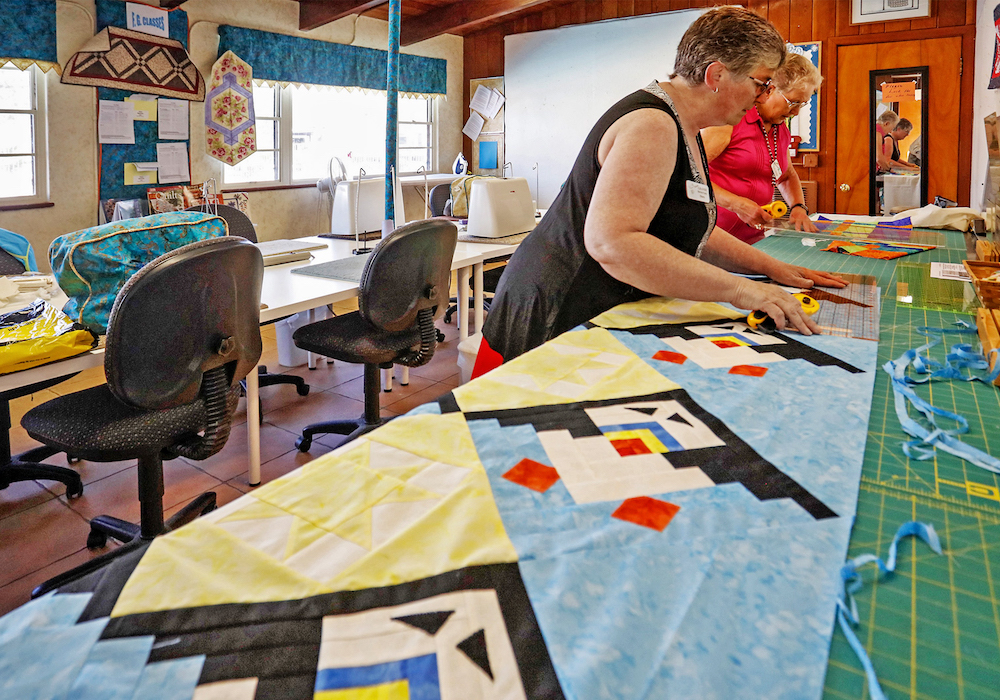 General Policies & Information
General Policies & Information
Policies subject to change without notice.
Check-in/Check-out & Hours
Check-in: 1 p.m.
Check-out: 11 a.m.
Two-hour early check-in for your reservation may be available for $30. Please contact the management office, in advance of your arrival, to inquire about availability.
Two-hour late check-out for your reservation may be available for $30. Please contact the management office, in advance of your arrival, to inquire about availability.
After Hours Arrival
If your plans change and you need to arrive outside of normal business hours, please refer to your confirmed reservation information, or, contact the campground at (520) 426-7000 prior to arrival to make late arrival arrangements.
Reservation & Rates
Mandatory two night reservations required for weekends and 3 nights for holidays.
Single night midweek campsite reservations may be booked.
Prices and site type are subject to availability.
The rates displayed do not include any applicable service fees or charges for optional incidentals.
To make changes to your reservation please call our Reservation Department at (877) 864-2728 and specify that you booked your reservation online.
Deposit and Payment Schedule
By using a credit card for a deposit, guarantee, or payment, you agree to the following: "If I used a credit card for a deposit, guarantee, or payment, I authorize MHC Property Management L.P. to charge any expenses incurred during my stay to that credit card or apply funds you have on deposit with MHC Property Management L.P. against what I owe."
Daily/Weekly Stays
Your credit card will be charged a deposit of one night rack rate. Any remaining balance is due upon arrival.
Extended Stays
For all stays of one month or longer, a one month deposit up to a maximum deposit of $750 is required at the time of reservation. Balance due on reservation start date.
Cancellation and Refund Policy
In the case of multiple sites booked, cancellation penalties apply to each site that is cancelled or changed.
No refunds will be issued for early check-out.
RV campsites: We allow full refunds for cancellations up to 2 days prior to your arrival date for daily and weekly reservations.
Rental accommodations: We allow full refunds for cancellations 7 days prior to your arrival date for daily and weekly reservations.
Daily and weekly reservations: for cancellations received less than the required notice period prior to arrival, your deposit will be forfeited up to one night rack rate.
Extended stays: For long-term reservations (28 days or longer), we allow full refunds for cancellations up to 60 days prior to your arrival date. For cancellations received less than the required notice period prior to arrival, the deposit amount will be held on account for a future stay. The only exception is a death or documented major family medical emergency, which will entitle the guest to full refund of the deposit if the cancellation is made prior to check-in. Refunds for death or extended hospitalization will be reviewed on an individual basis at the regional level.
Pet Policy
Rental Pet Policy: Pets are welcome. For those who camp with pets, there is a pet fee of $10 per pet per night for our pet-friendly rental units. The fee may vary at select properties. Service animals are not pets. The Company complies with the Americans with Disabilities Act (ADA) and state/local laws regarding service animals. Service animals may accompany a disabled person without any proof of disability or certification for the service animal. Guests traveling with a service animal will not be charged a pet fee. Charges may be incurred, however, should a service animal damage the rental unit.
Pet fees (currently pet fees are waived at the resort until further notice).
No pets are allowed in or around resort buildings.
Pets may be walked in designated areas on a leash.
Pets must be kept on a leash of no more than 8 feet.
Pets may be carried on bikes, in arms or in cars.
Owners are required to immediately clean up pet droppings.
Drainage basins and cactus plants are not safe areas for pets.
Pets are not allowed to urinate on or near any plants.
Pets must be kept inside your RV if you are gone.
Vicious dogs are not allowed.
Max 2 pets per site.
Immediate eviction will follow any pet bite or attack.
You will be held liable for any property damage caused by your pets.
Pet owners with 3 violations will have their tenancy terminated by Fiesta Grande.
Please call for monthly reservations for pet sites.
Campground Services & Information
Age qualified community.
Children are allowed to visit for up to 2 weeks. Restrictions to amenities may apply to children under 18.
Extra persons are $2 per person per day plus tax, with a max limit of 14 days (based on double occupancy)
For stays 30 days or longer please call for availability.
Rates displayed do not include any applicable service fees or charges for optional incidentals.
No tent camping permitted. RVs must be self-contained.

Escape to the beautiful sunny days and gentle warmth found at all our sunbelt resorts. With our resort-style amenities and variety of activities, you'll want to stay all winter long.
Loading Signup for Special Offers, Discounts and More!