View of Superstition Mountains from an Apache Junction RV resort
Our fitness center, heated swimming pool, library, billiards, spa and recreation center are just a few reasons why our guests love Countryside RV Resort. An age-qualified community near the breathtaking Superstition Mountains, this Apache Junction RV park offers comfort, relaxation and a slew of recreational activities.

Shopping, sightseeing and ghost towns are nearby, making Countryside RV Resort a great home base for experiencing local attractions. Come see what all the excitement is about - book your next getaway at Countryside!
Amenities
Clubhouse

Shuffleboard

Whirlpool/Spa/Hot Tub

Fitness Center

Pets Welcome

Restroom/Shower Facilities

Laundry Facilities

Ballroom/Banquet Hall

Billiards/Game Room

Library

Business Center

Private Mailbox/Mail Center

Dog Park

WiFi Hotspot
Activities
COVID-19 IMPACT ON ACTIVITIES & EVENTS All scheduled activities and theme events are subject to change due to covid-19 restrictions. ========================================= At Countryside RV Resort, we offer plenty of activities to keep you busy during your stay. With so much to choose from, there is bound to be a special activity for everyone. Be sure to check out the events and activities page to find out what activities are being offered during your visit.
Activities Center
Arts & Crafts
Cabaret Nights
Co-ed Water Aerobics
Creative arts and crafts classes and projects
Dancing
Guided Tours
Sightseeing Tours
Line, Country Western and Swing Dance Lessons
Weekly Potlucks
Activities Director
Bingo/Card Playing
Card Room
Computer Club
Dance Hall with Stage
Gaming
Jam Sessions
Planned Activities
Weekly Dances
Wood Carving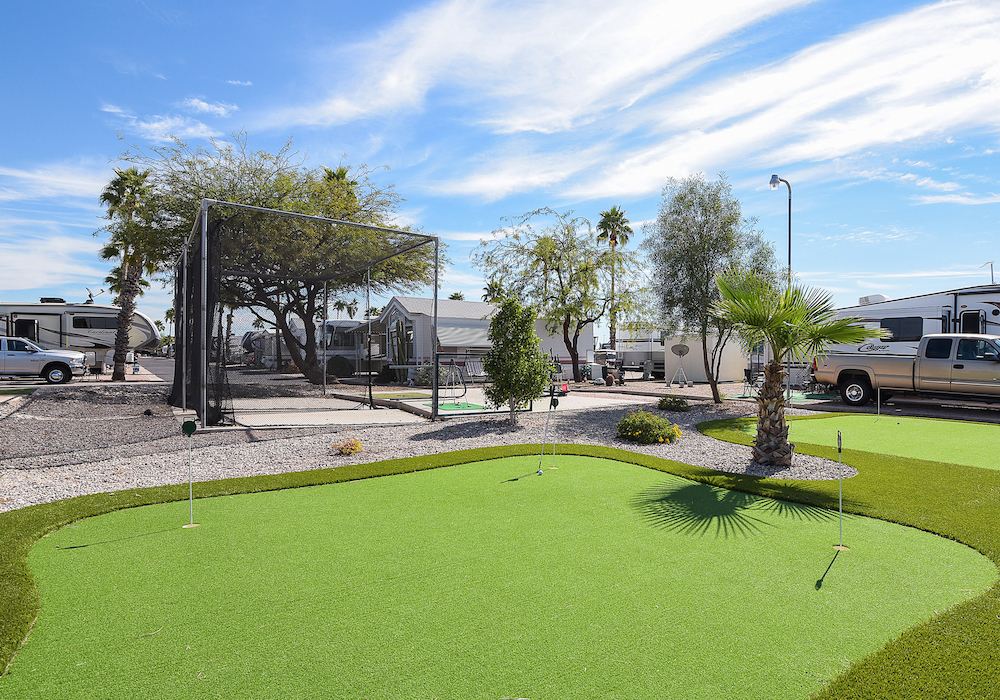 Ways to Stay
General Policies & Information
General Policies & Information
Policies subject to change without notice.
Check-in/Check-out & Hours
Check-in: 11 a.m. - 4 p.m.
Check-out: 11 a.m.
Minimum check-in age is 55 years.
Guests aged 18 years and under at the time of check-in are considered children.
Reservation & Rates
Mandatory two night reservations required for weekends and 3 nights for holidays.
Single night midweek campsite reservations may be booked.
Prices and site type are subject to availability.
The rates displayed do not include any applicable service fees or charges for optional incidentals.
To make changes to your reservation please call our Reservation Department at (877) 864-2728 and specify that you booked your reservation online.
Deposit and Payment Schedule
By using a credit card for a deposit, guarantee or payment, you agree to the following: if I used a credit card for a deposit, guarantee or payment, I authorize MHC Property Management L.P. to charge any expenses incurred during my stay to that credit card or apply funds you have on deposit with MHC Property Management L.P. against what I owe.
Daily/Weekly Stays
Your credit card will be charged a deposit of one night rack rate. Any remaining balance is due prior to arrival.
Extended Stays
For all stays of one month or longer, a one month deposit up to a maximum deposit of $750 is required at the time of reservation. Balance due on reservation start date.
Cancellation and Refund Policy
In the case of multiple sites booked, cancellation penalties apply to each site that is cancelled or changed.
No refunds will be issued for early check-out.
RV campsites: We allow full refunds for cancellations up to 2 days prior to your arrival date for daily and weekly reservations.
Rental accommodations: We allow full refunds for cancellations 7 days prior to your arrival date for daily and weekly reservations.
Daily and weekly reservations: for cancellations received less than the required notice period prior to arrival, your deposit will be forfeited up to one night rack rate.
Extended stays: For long-term reservations (28 days or longer), we allow full refunds for cancellations up to 60 days prior to your arrival date. For cancellations received less than the required notice period prior to arrival, the deposit amount will be held on account for a future stay. The only exception is a death or documented major family medical emergency, which will entitle the guest to full refund of the deposit if the cancellation is made prior to check-in. Refunds for death or extended hospitalization will be reviewed on an individual basis at the regional level.
Pet Policy
Leashed pets are always welcome at the resort.
Pets are allowed in restricted areas only.
No vicious breeds of dog.
Campground Services & Information
We are an aged qualified resort; one person must be at least 55 years of age. All other persons must be 40 years of age or older (80% rule applies.)
14 day limit for guests with children.
Rates are based on party of two.
Fee for extra guests is $2 per person, per day.

Escape to the beautiful sunny days and gentle warmth found at all our sunbelt resorts. With our resort-style amenities and variety of activities, you'll want to stay all winter long.
Loading