RV park in Pennsylvania Dutch Country with an outdoor lifestyle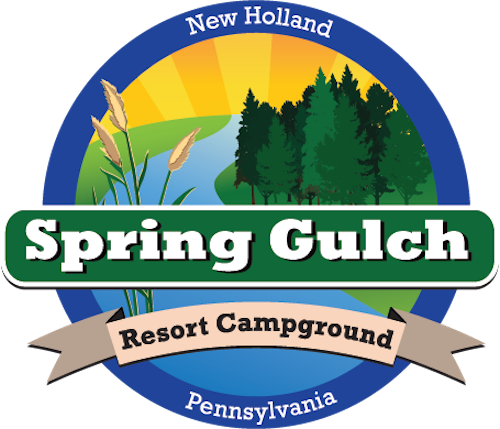 Spring Gulch RV Resort is more than just a campground. It's a full-amenity outdoor lifestyle coupled with the ultimate RV experience. Nestled on 115 beautiful acres in the heart of Pennsylvania Dutch Country, we're confident our RV resort has something for everyone.

Our RV park in Pennsylvania Dutch Country provides a relaxing and exciting RV vacation complete with a variety of activities. With two Olympic-size swimming pools, a stocked fishing lake, and a spring-fed swimming lake with a white sandy beach, guests have no trouble finding fun in the sun. Ask our helpful staff about historic tours and sightseeing opportunities or bicycling through the scenic Amish farmlands.

Stay for a weekend, a week or enjoy a premier seasonal site. Book now. We're confident you'll return year after year to Spring Gulch RV Resort in Pennsylvania Dutch Country!
Amenities
Clubhouse

Bike Trails

Shuffleboard

Swimming Pool

Whirlpool/Spa/Hot Tub

Fishing

Fitness Center

RV Storage

Pets Welcome

Store

Nature / Hiking Trails

Mini Golf

Restroom/Shower Facilities

Laundry Facilities

Picnic/BBQ Area

Playground

Volleyball

Basketball

Horseshoes

Tennis Courts

Billiards/Game Room

WiFi $$
Activities
Whether you're planning a retreat for the whole family, a group of friends or a getaway for two, there's no shortage of unique activities to explore at Spring Gulch RV Campground. Plan activities upon arrival or visit this page before your departure to plan ahead. Looking for more? Our friendly staff can fill you in on all of the great ways to make your stay a memorable experience.
Activities Center
Activities Director
Arts & Crafts
Bingo/Card Playing
Card Room
Children's Playground
Childrens Programs - Fee
Dance Hall with Stage
Dancing
Kids Activities
Line, Country Western and Swing Dance Lessons
Mini Golf
Planned Activities
Square, Line, Round & Ballroom Dancing
Volleyball
Volleyball Court and Sand Badminton
Weekly Dances
Lake Frontage
Upcoming Events
Spring Fling Weekend

04/14/2023 – 04/16/2023

Join us for a spring-filled weekend of crafts and activities for the kids.

Bingo Extravaganza Weekend

04/21/2023 – 04/23/2023

We'll have all types of fun Bingo games to play for all ages.

Mother's Day Weekend

05/12/2023 – 05/14/2023

Come celebrate all the moms. We'll have crafts for kids/moms.

Jubilee Weekend!

05/19/2023 – 05/21/2023

We've planned a fun weekend! Live music Friday night and Saturday with "Fast Lane" (Friday) and "The Jess Zimmerman Band" (Saturday). We'll have food trucks and vendors on Saturday. Enjoy Saturday afternoon & Sunday morning country line dancing with "DELCO."

Spring Gulch Mini Golf Tournament

06/02/2023 – 06/04/2023

There will be mini golf games & tournament for all ages.

Father's Day Weekend

06/16/2023 – 06/18/2023

Bring your father or father figure and celebrate him with games & activities at the campground.

Baseball Weekend

06/23/2023 – 06/25/2023

Join us for a weekend of baseball games and crafts. Saturday night come enjoy the live band: "Stu Huggens".

Casino Weekend

07/07/2023 – 07/09/2023

We'll have games of chance and fun for everyone.

Christmas Weekend

07/21/2023 – 07/23/2023

This is your invitation to join us for lots of fun Christmas activities.

Everyone's Birthday Weekend

08/04/2023 – 08/06/2023

Don't miss the birthday party. We're celebrating everyone's birthday!

Spring Gulch Hot Wheels Race Weekend

08/11/2023 – 08/13/2023

Come participate in our Hot Wheels race and activities. You won't want to miss it!

End of Summer Weekend

08/25/2023 – 08/27/2023

Come celebrate with us for one last summer weekend.

Labor Day Weekend

09/01/2023 – 09/04/2023

Come kick up your feet and relax with us all weekend. 3-night minimum stay required.

Halloween Weekend

10/06/2023 – 10/08/2023

We've got the entire weekend planned with trick-or-treating, costume contests, and hayrides.
Ways to Stay
General Policies & Information
General Policies & Information
Policies subject to change without prior notice.
Check-in/Check-out & Hours
Campsite & Rental check-in: 3 p.m.
Rental check-out: 11 a.m.
Campsite check-out: 2 p.m.
Minimum check-in age is 18 years.
Guests aged 6 years and under at the time of check-in are considered children.
After Hours Arrival
For late arrival arrangements, please contact our Reservation Department at (866) 864-8524.
Reservations & Payments
Your credit card will be charged Itinerary Total prior to arrival, up to a maximum deposit of one night rack rate. Any remaining balance is due prior to arrival.
Prices and site type are subject to availability.
The rates displayed do not include any applicable service fees or charges for optional incidentals.
Cancellations & Refunds
RV campsites: We allow full refunds for cancellations up to 2 days prior to your arrival date for daily and weekly reservations.
No refunds will be issued for early check-out.
Rental accommodations: We allow full refunds for cancellations 7 days prior to your arrival date for daily and weekly reservations.
Daily and weekly reservations: for cancellations received less than the required notice period prior to arrival, your deposit will be forfeited up to one night rack rate.
Deposit & Payment Schedule
Mandatory 2 night reservations for weekends and 3 nights for holidays.
1 night midweek campsite reservations can be booked.
1 night campsite reservation for a weekend can only be booked on the day of arrival (overrides can only be approved by the property operations staff).
1 night rental reservation can be booked only 2 days in advance and there is a $10 surcharge.
Pet Policy
Whether it's just for a weekend or for the whole season, these top campgrounds have it all – from unique accommodations to family friendly activities to scenic locations.
Loading