Book Now
Not A Member?
Camp all year with a Thousand Trails Camping Pass! Join Now

Alpine Lake RV Resort
78 Heath Rd, Corinth, NY 12822 view map
Lake George RV resort in the foothills of the Adirondack Mountains
Nestled between Lake George and Saratoga Springs just outside the beautiful Adirondack Forest Preserve, Alpine Lake RV Resort offers a unique opportunity to get away from it all. With over 400 acres to enjoy, spend the day fishing, hiking or biking on our many trails, or enjoying the beautiful mountains at this Lake George RV resort. Find the comforts of home with lodging accommodations like our private campsites, homestyle rentals or cottages.
Off site, guests can enjoy an array of local attractions and activities. Take a steamboat cruise, brave the thrilling rides at The Great Escape, or walk through a thrilling wax museum in Lake George Village. Grab a bite to eat at a Saratoga restaurant or shop along Victoria Broadway. Together, Saratoga Springs and Lake George have everything to make a memorable family vacation.
Immerse yourself in a setting of unparalleled natural beauty, charm, and elegance with a trip to Alpine Lake RV Resort. We look forward to sharing our quiet little corner of the Adirondacks with you soon.
Amenities
Bike Trails
Swimming Pool
Fishing
Near Beach
Creek / Lake / Canal / River / Ocean Frontage
RV Storage
Pets Welcome
Restaurant
Store
Nature / Hiking Trails
Restroom/Shower Facilities
Laundry Facilities
Volleyball
Basketball
Horseshoes
Tennis Courts
Billiards/Game Room
WiFi $$
Rentals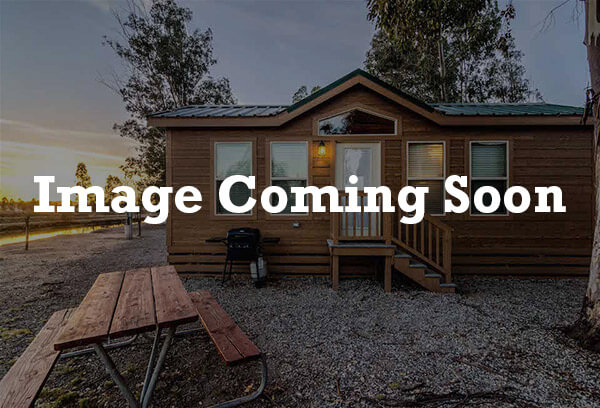 Cabin (Sleeps 6/No Pets)
These lakefront cabins sleep 6 people and include one queen bed, full size sofa bed, and 38' x 12' loft area with screened-in porch. Bed linens, pillows and towels not provided.
No smoking. We do not allow pets in this accommodation type; however, we do allow service animals and a service animal may have stayed in this rental.
Cabin - Deluxe (Sleeps 6/No Pets)
These 14'x37' deluxe cabins come with a covered screened in porch. Each cabin includes 2 bedrooms; one queen bed and the other with a full-size bunk bed. The large kitchen has a full-size refrigerator, stove with oven, microwave, coffee maker, toaster, and dinnerware for 6. In addition to a pull-out sofa, the living/dining room includes a table that seats 4. Full restroom facilities include a combo shower/tub. All rentals come with heat, A/C and large flat screen TV. Enjoy the comfort of our new cabins in the great outdoors!
We do not allow pets in this accommodation type; however, we do allow service animals and a service animal may have stayed in these rentals.
Photo Gallery
Activities
Whether you're planning a retreat for the whole family, a group of friends or a getaway for two, there's no shortage of unique activities to explore at Alpine Lake RV Resort. Plan activities upon arrival or visit this page before your departure to plan ahead. Looking for more? Our friendly staff can fill you in on all of the great ways to make your stay a memorable experience.
We currently offer the following activities:
Weekend Horseshoe Tournaments
Live Entertainment
Dancing in our 800 seat pavilion
Potluck Dinners
Theme Weekend Events
Cart Parade
Children Activities
Softball, Basketball & Tennis Courts
Adult Boat Races (paddle)
Fishing Tournaments (Children & Adults)
Arcade Center
Policies
General Policies:
Check In Time: 1 p.m.
Check Out Time: 12 noon
Rental Check in Time: 4 p.m.
Rental Check out Time: 1 p.m.
Minimum Check In age is 21 years old.
Guests aged 18 years old and under at the time of check in are considered children.
Pets are allowed. We do not allow pets in some accommodation types; however, we do allow service animals and a service animal may have stayed in a unit.
The rates displayed do not include any applicable service fees or charges for optional incidentals.
For late arrival arrangements, please contact the the resort directly at (518) 654-6260 prior to arrival.
Reservation and Payment Policies:
Your credit card will be charged the Itinerary Total prior to arrival, up to a maximum deposit of $250. Any remaining balance will be due upon arrival.
If you cancel your reservation 14 or more days prior to arrival, you will be charged a $25 administrative fee.
If you cancel your reservation within 14 days of arrival, you will forfeit your deposit; up to a maximum of $250.
In the case of multiple sites booked, cancellation penalties apply to each site that is cancelled or changed.
Prices and site type are subject to availability.
No refunds will be issued for early check out.
All rentals will be charged tax additionally on reservation total.
If I used a credit card for a deposit, guarantee or payment, I authorize MHC Property Management L.P. to charge any expenses incurred during my stay to that credit card or apply funds you have on deposit with us against what I owe.

Additional Information:
Four night minimum stay required during Memorial Day and Labor Day weekends.
Seven night minimum stay required on the lake for the Fourth of July (any seven days including the fourth). All others sites during the Fourth of July require a five night minimum stay.
Seven night minimum stay required for the lake front sites during July and August.
All site fees are based on two people.
For each additional person 16 years and older there is an additional $6 per day.
There is a daily fee of $6 for visitors.
One family allowed per site.
One RV/tent allowed per site (For an additional $10 per night, one tent is permitted on each reserved RV site).
Campers desiring to stay for a single night are always welcome, if available, on a walk-up basis only.
NYS Sales and Occupancy tax does not apply to campsites regardless of length of stay.
Current Weather
Corinth, NY
36°F
Mon 58
Tue 54
Wed 39
Thu 40
Fri 41