RV park in Pennsylvania Dutch Country near a host of attractions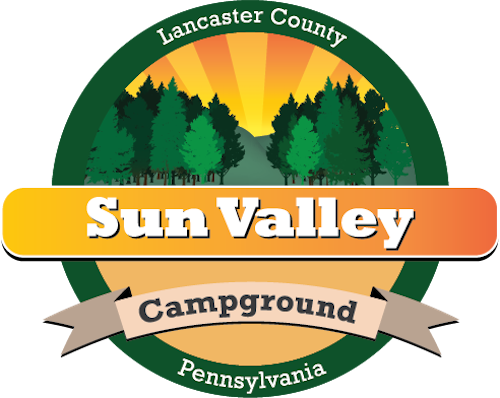 Sun Valley RV Campground is a seasonal Pennsylvania RV park with facilities designed to make your stay as comfortable, convenient and fun as possible. Located in the heart of Pennsylvania Dutch Country, you will never be without things to do. Sun Valley RV Campground is conveniently located near various attractions such as Hershey Park, Dorney Water Park, Dutch Wonderland, Sesame Place, Longwood Gardens, Strasburg Railroad and Train Museum and Maple Grove Raceway.

Back at the campground, enjoy our long list of attractive amenities. A swimming pool, snack bar and store, fishing pond, outdoor pavilion, game room, playground, basketball court, horseshoe pits, volleyball, laundry facility and organized activities are all available.

Sun Valley RV Campground is perfect for overnight or extended-stay camping on a seasonal basis. We are a RV park in Pennsylvania Dutch Country with full hook-up sites, big rig sites, 50-amp service, and plenty of room for slide-outs. Don't have a camper? Our new Premier vacation cottage rentals sleep up to eight. We look forward to demonstrating the superior customer service of Sun Valley RV Campground on your next visit to Pennsylvania Dutch Country.
Amenities
Swimming Pool

Fishing

Pets Welcome

Store

Nature / Hiking Trails

Restroom/Shower Facilities

Laundry Facilities

Picnic/BBQ Area

Playground

Volleyball

Basketball
Activities
Whether you're planning a retreat for the whole family, a group of friends or a getaway for two, there's no shortage of unique activities to explore at Sun Valley RV Campground. Plan activities upon arrival or visit this page before your departure to plan ahead. Looking for more? Our friendly staff can fill you in on all of the great ways to make your stay a memorable experience.
Activities Coordinator
Bingo/Card Playing
Children's Playground
Kids Activities
Live Entertainment
Planned Activities
Potlucks
Volleyball
Catch & Release Fishing
Weekend Craft Activities
Cornhole Games & Tournaments
Pavilion
General Policies & Information
General Policies and Information
Check-in/Check-out & Hours
Campsite and rental check-in: 3 p.m.
Campsite check-out: 2 p.m
Rental check-out: 11 a.m.
Quiet time: 11 p.m. to 8 a.m.
Minimum check-in age is 18 years.
Two-hour early check-in for your reservation may be available for $30. Please contact the management office, in advance of your arrival, to inquire about availability.
Two-hour late check-out for your reservation may be available for $30. Please contact the management office, in advance of your arrival, to inquire about availability.
After Hours Check-in
For late arrival arrangements, please contact the campground at (717) 445-6262 prior to arrival.
Reservation & Rates
Mandatory two night reservations for weekends, and 3 nights for holidays.
Single night midweek campsite reservations may be booked.
Prices and site type are subject to availability.
The rates displayed do not include any applicable service fees or charges for optional incidentals.
RV sites and lodging typically accommodate four guests. A guest fee is added per day to the reservation rate for each additional guest over four.
Cancellations & Refunds
In the case of multiple sites booked, cancellation penalties apply to each site that is cancelled or changed.
No refunds will be issued for early check-out.
RV campsites: We allow full refunds for cancellations up to 2 days prior to your arrival date for daily and weekly reservations.
Rental accommodations: We allow full refunds for cancellations 7 days prior to your arrival date for daily and weekly reservations.
Daily and weekly reservations: for cancellations received less than the required notice period prior to arrival, your deposit will be forfeited up to one night rack rate.
Extended stays: For long-term reservations (28 days or longer), we allow full refunds for cancellations up to 60 days prior to your arrival date. For cancellations received less than the required notice period prior to arrival, the deposit amount will be held on account for a future stay.
Deposit and Payment Schedule
Your credit card will be charged Itinerary Total prior to arrival, up to a maximum deposit of one night rack rate. Any remaining balance is due prior to arrival.
By using a credit card for a deposit, guarantee or payment, I authorize MHC Property Management L.P. to charge any expenses incurred during my stay to that credit card or apply funds I have on deposit with MHC Property Management L.P. against what I owe.
Pet Policy
Pets are allowed and must be on a short leash at all times. When walking a dog, guests must adequately control the dog at all times. Dogs must never be left unattended at any campsite or rental. Please use bags to clean up after your pet. There are bag dispensers and trash cans throughout the campground. Pets are not permitted in the store, pavilion, or pool area.
Pet policy for rental accommodations: Pets are welcome. For those who camp with pets, there is a pet fee of $10 per pet per night for our pet-friendly rental units. The fee may vary at select properties. Service animals are not pets. The Company complies with the Americans with Disabilities Act (ADA) and state/local laws regarding service animals. Service animals may accompany a disabled person without any proof of disability or certification for the service animal. Guests traveling with a service animal will not be charged a pet fee. Charges may be incurred, however, should a service animal damage the rental unit.
Campground Services & Information
Sun Valley RV Resort offers complimentary WiFi; however connection is inconsistent.
Newly renovated showers and restrooms are located at the pavilion.
Please be a courteous neighbor.
Abide by the 5mph speed limit.
Two vehicles are permitted per site. Guests bringing additional vehicles must utilize the extra parking below the gate, across from the store, around the craft shack and behind the pavilion.
Golf carts: Only electric golf carts are permitted. All golf cart drivers must be at least 16 with a valid driver's license. The number of passengers is limited to the number of seats in the golf cart. Please do not stand or hang on the golf cart.
Bicyclists must wear a helmet. Please do not ride after dark. Be considerate of other guests. Please abide by the 5mph speed limit.
Skateboards, scooters, inline skates, mini bikes, and mopeds are not permitted.
Alcohol: As Sun Valley is a family environment, please keep your beverage in a koozi or other concealing container. Please do not drink in excess in areas shared with other guests, such as the pool, playground, pavilion etc.
Smoking: Please do not smoke in any of the buildings or throw cigarette butts on the ground.
Items on site: Please secure your personal property on your site. We cannot be responsible for lost or stolen items (happens rarely).
Pool: Enjoy our heated pool from 10 a.m. to 8 p.m. Children under the age of 14 must be accompanied by an adult above the age of 18. No glass containers in the pool area or food and/or beverages in the pool. No running, diving or horseplay permitted. In keeping with our family environment, please watch your language.
Trash: There is no site pick-up. Please dispose of debris in the dumpsters near the maintenance garage.
Whether it's just for a weekend or for the whole season, these top campgrounds have it all – from unique accommodations to family friendly activities to scenic locations.
Loading Signup for Special Offers, Discounts and More!