Golf & RV Resort in Arizona
If you agree that RV camping and golfing are a perfect pair, then ViewPoint RV Resort is the perfect Arizona RV resort for you! Nestled at the base of the Superstition Mountains in Mesa, Viewpoint RV Resort offers scenic views and a wide variety of attractive amenities.

At ViewPoint RV Resort, we're dedicated to offering something for all guests to enjoy. We're proud to say we're home to numerous activities and amenities including 10 tennis courts, a hair salon/spa, 27 holes of golf, softball, three swimming pools, 10 shuffleboard courts, a clubhouse and much more. There is also a wonderful collection of shopping, dining and entertainment establishments just outside the resort. Hiking, biking, and walking in the area's parks is another great way to explore and enjoy the natural surroundings and the beautiful Arizona landscape.
Find your Home Away from Home with a Seasonal or Annual Site!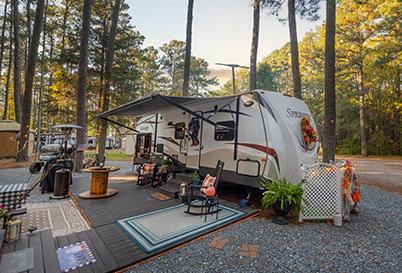 Take a break from the hustle and bustle of everyday life with a seasonal or annual site! Begin relaxing as soon as you arrive without having to set up and break down each time you want to vacation. Your site and a community of friends will be ready to welcome you back time and again. Some benefits of having your own seasonal or annual RV site or vacation home include:
A guaranteed spot of your choice at our resort
A way to spend even more time being active and social outdoors
A discounted yearly rate compared to daily or seasonal rates
A sense of community with other annual site guests
Don't miss the opportunity to secure your spot, make lifelong friends, and make our campground your true escape from the everyday.
Amenities
Clubhouse

Shuffleboard

Swimming Pool

Whirlpool/Spa/Hot Tub

Fitness Center

Pets Welcome

Restaurant

Store

Nature / Hiking Trails

Restroom/Shower Facilities

Laundry Facilities

Golf Course

Picnic/BBQ Area

Volleyball

Basketball

Tennis Courts

Ballroom/Banquet Hall

Library

Pickleball

Private Mailbox/Mail Center

Dog Park
Activities
Whether you're planning a retreat for a group of friends or a getaway for two, there's no shortage of unique activities to explore at Viewpoint RV & Golf Resort. Plan activities upon arrival or visit this page before your departure to plan ahead. Looking for more? Our friendly staff can fill you in on all of the great ways to make your stay a memorable experience.
Activities Center
Arts & Crafts
Card Room
Church Service
Computer Club
Dance Hall with Stage
Line, Country Western and Swing Dance Lessons
Planned Activities
Pickle Ball
Activities Director
Bingo/Card Playing
Ceramics - Wood Carving
Co-ed Water Aerobics
Creative arts and crafts classes and projects
Dancing
Men/Women Exercise Classes
Square, Line, Round & Ballroom Dancing
Tennis Courts (www.viewpointtennisclub.com)
27 holes of Golf
Driving Range
Chipping/Putting Green
Weekly Dinner Shows
Live Music on The Green
3 Swimming Pools
7 Hot Tubs
Sauna
Billiard Room
Live Concert Series
Softball (https://www.viewpointsrsoftball.com)
Vacation Cottages for Sale
General Policies & Information
General Policies & Information
Policies subject to change without notice.
Check-in/Check-out & Hours
Check-in: 1 p.m.
Check-out: 11 a.m.
Business Office: Mon - Fri, 9 a.m. - 4 p.m.
Minimum check-in age is 55 years.
Two-hour early check-in for your reservation may be available for $30. Please contact the management office, in advance of your arrival, to inquire about availability.
Two-hour late check-out for your reservation may be available for $30. Please contact the management office, in advance of your arrival, to inquire about availability.
After Hours Arrival
If your plans change and you need to arrive outside of normal business hours, please refer to your confirmed reservation information. Or, contact the campground at (480) 373-8700 (option 2) prior to arrival to make late arrival arrangements.
Reservation & Rates
Mandatory two night reservations required for weekends and 3 nights for holidays.
Single night midweek campsite reservations may be booked.
Prices and site type are subject to availability.
The rates displayed do not include any applicable service fees or charges for optional incidentals.
To make changes to your reservation please call our Reservation Department at (877) 864-2728 and specify that you booked your reservation online.
Deposit and Payment Schedule
By using a credit card for a deposit, guarantee or payment, you agree to the following: if I used a credit card for a deposit, guarantee or payment, I authorize MHC Property Management L.P. to charge any expenses incurred during my stay to that credit card or apply funds you have on deposit with MHC Property Management L.P. against what I owe.
Daily/Weekly Stays
Your credit card will be charged a deposit of one night rack rate. Any remaining balance is due prior to arrival.
Extended Stays
For all stays of one month or longer, a one month deposit up to a maximum deposit of $750 is required at the time of reservation. Balance due on reservation start date.
Cancellation and Refund Policy
In the case of multiple sites booked, cancellation penalties apply to each site that is cancelled or changed.
No refunds will be issued for early check-out.
RV campsites: We allow full refunds for cancellations up to 2 days prior to your arrival date for daily and weekly reservations.
Rental accommodations: We allow full refunds for cancellations 7 days prior to your arrival date for daily and weekly reservations.
Daily and weekly reservations: for cancellations received less than the required notice period prior to arrival, your deposit will be forfeited up to one night rack rate.
Extended stays: For long-term reservations (28 days or longer), we allow full refunds for cancellations up to 60 days prior to your arrival date. For cancellations received less than the required notice period prior to arrival, the deposit amount will be held on account for a future stay. The only exception is a death or documented major family medical emergency, which will entitle the guest to full refund of the deposit if the cancellation is made prior to check-in. Refunds for death or extended hospitalization will be reviewed on an individual basis at the regional level.
Pet Policy
Pets are allowed. Limit 2 dogs per site. Other pet restrictions may apply.
Campground Services & Information
For age-qualified resorts, a 14 day limit on guests and children applies.
All rates are based on a party of two. Additional fees for additional guests may apply.
We will do our best to hold the site specified in your confirmation letter; however we cannot guarantee that a site change will not be made.
Electricity and water is metered and charged additionally along with trash pickup for stays of thirty days or more. $150 Electric deposit is charged at check-in for any reservation 30 days or longer.

Escape to the beautiful sunny days and gentle warmth found at all our sunbelt resorts. With our resort-style amenities and variety of activities, you'll want to stay all winter long.
Loading Signup for Special Offers, Discounts and More!