A Popular RV Campground in California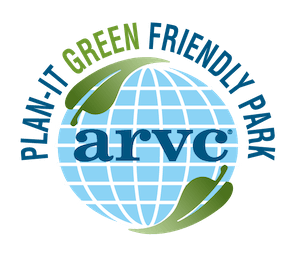 This RV camp in California is equally perfect for a weekend getaway or a long-term hiatus. Situated in the beautiful Coachella Valley, this 25-acre California RV campground boasts an unbeatable location near lakes, canyons and national monuments. Whether you're looking for the perfect winter vacation or a golf retreat, Palm Springs RV Campground is a win-win choice.

This desert community truly offers something for everyone. Known as a golfer's paradise, Palm Springs has a variety of well-groomed courses. Opportunities for fishing are just a short distance away at The Salton Sea and Lake Cahuilla. Additionally, nearby attractions like Joshua Tree National Park, Thousand Palms Oasis and the San Jacinto National Monument await. Don't forget the most breathtaking sight of them all! Take in views of the mountains and the Coachella Valley from the Palm Springs Aerial Tramway as it lifts you up 8,000 feet to the peak of Mt. San Jacinto!

Amenities
Paid WiFi

Shuffleboard

Swimming Pool

Whirlpool/Spa/Hot Tub

Pets Welcome

Restroom/Shower Facilities

Laundry Facilities

Playground

Horseshoes

Billiards/Game Room

Library

Pickleball

Dog Park

Cable TV

WiFi Hotspot in Lodge
Activities
Whether you're planning a retreat for the whole family, a group of friends or a getaway for two, there's no shortage of unique activities to explore at Palm Springs RV Resort. Plan activities upon arrival or visit this page before your departure to plan ahead. Looking for more? Our friendly staff can fill you in on all of the great ways to make your stay a memorable experience.
Activities Center
Arts & Crafts
Creative arts and crafts classes and projects
Jam Sessions
Live Entertainment
Planned Activities
Activities Director
Bingo/Card Playing
Children's Playground
Kids Activities
Tournaments
Karaoke
Puzzles/Games
Social Club
Water Volleyball
Coffee Social
Walk and Zumba Exercise Videos
Water Aerobics
Foosball
Air Hockey
General Policies & Information
General Policies & Information
Policies subject to change without prior notice.
Check-in/Check-out & Hours
RV Check-in: 1 p.m.
RV Check-out: 11 a.m.
Cabin Check-in: 3 p.m.
Cabin Check-out: 11 a.m.
Front Office: 9 a.m. - 5 p.m.
Pool, Jacuzzi, and Billiards: 9 a.m. - 9 p.m.
Propane Station (Mon, Wed, Fri): 9 a.m. - 11 a.m.
Quiet Hours: 10 p.m. - 8 a.m.
Upon check-in you may be asked to provide a valid ID, and a certificate of insurance and registration for your camper. Members should also have their membership card on hand.
A completed reservations for minors form is required for all unaccompanied minors. To download the form, copy and paste this link into your browser: http://www.rvonthego.com/images/PDF/Reservations-For-Minors061917.pdf.
Two-hour early check-in for your reservation may be available for $30. Please contact the management office, in advance of your arrival, to inquire about availability.
Two-hour late check-out for your reservation may be available for $30. Please contact the management office, in advance of your arrival, to inquire about availability.
Campsites
Full hookups (electricity, water, sewer).
30/50 amp Back-ins.
30 amp Pull-throughs Only 1 RV, 2 vehicles, and 2 tents are permitted in any site (if all can fit). Overflow parking is available.
Please request preserve permission when leaving RV unattended.
Pet Policy
All RV sites and select rentals are pet friendly. Pets must be leashed and never left unattended. Owners must pick up after their pets. No dangerous, aggressive, or poisonous pets of any kind are permitted.
Rental Pet Policy: Pets are welcome. For those who camp with pets, there is a pet fee of $10 per pet per night for our pet-friendly rental units. The fee may vary at select properties. Service animals are not pets. The Company complies with the Americans with Disabilities Act (ADA) and state/local laws regarding service animals. Service animals may accompany a disabled person without any proof of disability or certification for the service animal. Guests traveling with a service animal will not be charged a pet fee. Charges may be incurred, however, should a service animal damage the rental unit.
Fire Policy
No ground or wood fires. Gas, charcoal, and presto logs are permitted in personal raised fire pits.
Guest Policy
Members must notify Ranger Station of any guests and guests must have a car pass. Members must accompany and remain present for his/her guest. Members are responsible for the actions and behavior of their guests during their stay.
Vehicle Policy
All vehicles must have current registration and insurance. All RVs must have a visible check-in form attached. All passenger cars, trucks and motorcycles must have a current car pass. All vehicles must meet Thousand Trails RV Standards and Guidelines. Parking guide will be provided upon arrival.
Reservation & Payment Policies
Our resort accepts card payments only.
Your credit card will be charged Itinerary Total prior to arrival, up to a maximum deposit of one night rack rate. Any remaining balance is due prior to arrival.
A deposit of $250 will be collected prior to arrival for Monthly and Rental reservations.
A $500 deposit will be collected for prior to arrival for Annual reservations. Monthly and Annual reservations are a non-refundable rate. Prices and site type are subject to availability. The rates do not include any applicable service, cleaning, or damage fees.
Lost rental key fee is $125.
$25.00 charge for no-show daily and weekly reservations.
RV sites and lodging typically accommodate four to six guests. A guest fee is added per day to the reservation rate for each additional guest over four.
Cancellation Policies
In the case of multiple sites booked, cancellation penalties apply to each site that is cancelled or changed.
No refunds will be issued for early check-out.
RV reservations: We allow full refunds for cancellations up 2 days prior to arrival date for daily and weekly reservations.
Rental Reservations: We allow full refunds for cancellations up 7 days prior to arrival date for daily and weekly reservations and 60 days prior to arrival for monthly reservations.
Daily and weekly reservations: for cancellations received less than the required notice period prior to arrival, your deposit will be forfeited up to one night rack rate.
Extended stay reservations: For long-term reservations (28 days or longer), we allow full refunds for cancellations up to 60 days prior to your arrival date. For cancellations received less than the required notice period prior to arrival, the deposit amount will be held on account for a future stay.
Campground Services & Information
UPS, FEDEX, and Amazon deliver packages directly to your campsite.
USPS letter mail and packages can be sent to our resort address: 77500 Varner Rd, Palm Desert, CA 92211. Be sure to include your name, site number and campsite address.
Mail can be picked up at the Recreation Center mailroom. A valid driver's license is required. Guests will be notified when mail is ready to be picked up. Parcel fees are: $5 (under 5 lbs), $10 (over 5 lbs - 20 lbs), and $20 (over 20 lbs). For inquiries about mail, please contact the Recreation Center at (760) 772-7078.
Faxing and printing services are available. Fees are $2 for the first page and 0.50 cents for each additional page.
Propane hours are Monday, Wednesday and Friday from 9 a.m. to 11 a.m. at $7.00 per gallon. Ice is sold at $5 and the dump station has no charge for guests and members.
Enjoy year-round camping in the great outdoors at Thousand Trails' network of campgrounds, with spacious campsites, hiking trails, fishing, and family fun.
Loading Signup for Special Offers, Discounts and More!