Fun-Filled RV Campground in Florida
Nestled in the heart of Florida, Thousand Trails Orlando RV Campground is a haven for those seeking the perfect blend of relaxation and fun-filled activities. Our award-winning campground, recognized with the TripAdvisor Certificate of Excellence from 2016 to 2018, is open all year round, offering a tranquil setting along the shores of a spring-fed lake with sandy beaches.

Conveniently located at 2110 Thousand Trails Blvd, Clermont, FL 34714-9659, our campground is a stone's throw away from the hustle and bustle of Florida's tourist attractions. Despite being close to the action, our campground offers a serene retreat from the crowds. With 1017 sites, we have ample space to accommodate RV enthusiasts from all walks of life.
Amenities and Activities
Thousand Trails Orlando RV Campground is designed to cater to a wide range of interests. Whether you're looking to relax, socialize, or get active, we've got you covered. Our experienced staff members lead a variety of planned activities for all guests to enjoy.
Guests rave about our well-maintained park, with its brand-new section of approximately 160 sites, complete with concrete pads, picnic tables, and grassy areas. Our RV spots come with full hookups, ensuring maximum convenience and hygiene.
For those who love to stay connected, we offer limited Wi-Fi and great cell service. Our guests have reported excellent T-Mobile coverage.
Proximity to Local Attractions
The RV campground offers the perfect location near local attractions, including the popular Orlando theme parks. We're just 20 minutes away from Disney, making us a favorite spot for families looking to enjoy the magic of the theme parks without the hassle of long commutes.
Commitment to Improvement
We're constantly striving to enhance our guests' experience. Our recent improvements include the addition of new sites and the renovation of our pool areas. We're also in the process of building a dedicated building for laundry services, which will further enhance the convenience for our guests.
Book Your Stay Today!
Our busiest time of the year is from December 19 through March 31, but any time of year is a great time to visit! Be sure to book your trip in advance as our campground fills up quickly. We look forward to making your Orlando RV camping trip one to remember.
Experience the best of Florida's outdoors at Thousand Trails Orlando RV Campground, where fun meets relaxation.
Back to Top
Read More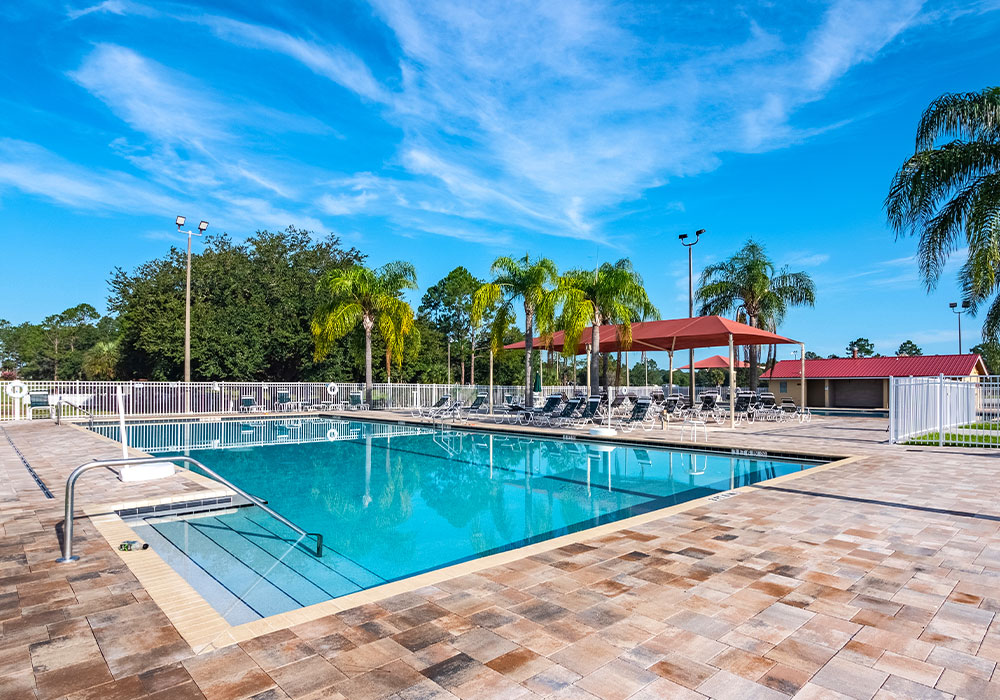 Amenities
Pickleball Courts

Lake Frontage

Clubhouse

Shuffleboard

Swimming Pool

Whirlpool/Spa/Hot Tub

Fishing

Fitness Center

Pets Welcome

Store

Mini Golf

Restroom/Shower Facilities

Laundry Facilities

Boat Rental

Playground

Horseshoes

Billiards/Game Room

Library

Business Center

Dog Park
Activities
Whether you're planning a retreat for the whole family, a group of friends or a getaway for two, there's no shortage of unique activities to explore at Orlando RV Resort. Plan activities upon arrival or visit this page before your departure to plan ahead. Looking for more? Our friendly staff can fill you in on all of the great ways to make your stay a memorable experience.
Activities Center
Children's Playground
Co-ed Water Aerobics
Creative arts and crafts classes and projects
Jam Sessions
Line Dancing
Men/Women Exercise Classes
Planned Activities
Tournaments
Weekly Dances
Woodcarving
Activities Director
Ceramics - Wood Carving
Church Service
Computer Club
Dancing
Kids Activities
Live Entertainment
Mini Golf
Potlucks
Square, Line, Round & Ballroom Dancing
Volleyball Court and Sand Badminton
Pickleball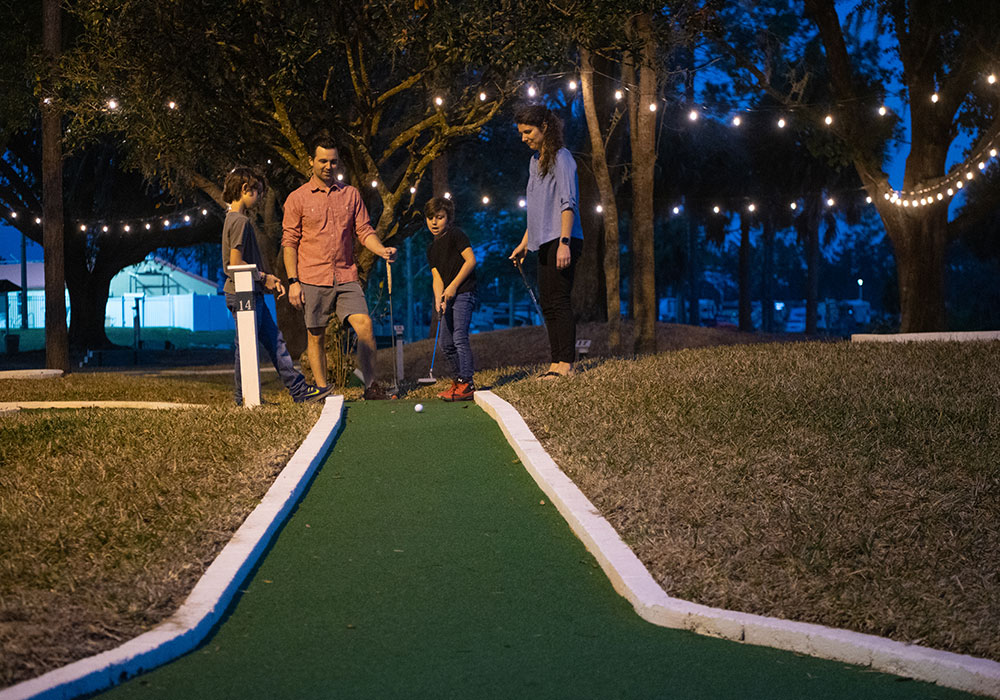 General Policies & Information
General Policies & Information
Policies subject to change without notice.
Check-in/Check-out & Hours
Campsites check-in: 12 p.m. - 7 p.m.
Rental check-in: 4 p.m. - 7 p.m.
Check-out: 11 a.m.
Upon check-in you may be asked to provide a valid ID, and a certificate of insurance and registration for your camper. Members should also have their membership card on hand.
Minimum check-in age is 21 years.
Guests aged 18 years and under at the time of check-in are considered children.
Two-hour late check-out for your reservation may be available for $30. Please contact the management office, in advance of your arrival, to inquire about availability.
After Hours Arrival
After hours check-in available. For late arrival arrangements, please contact our Front Desk at (352) 394-7575.
Reservation & Rates
Mandatory two night reservations required for weekends and 3 nights for holidays.
Single night midweek campsite reservations may be booked.
Prices and site type are subject to availability.
The rates displayed do not include any applicable service fees or charges for optional incidentals.
To make changes to your reservation please call our Reservation Department at (877) 864-2728 and specify that you booked your reservation online.
RV sites and lodging typically accommodate four guests. A guest fee is added per day to the reservation rate for each additional guest over four.
Deposit and Payment Schedule
By using a credit card for a deposit, guarantee or payment, you agree to the following: if I used a credit card for a deposit, guarantee or payment, I authorize MHC Property Management L.P. to charge any expenses incurred during my stay to that credit card or apply funds you have on deposit with MHC Property Management L.P. against what I owe.
Daily/Weekly Stays
Your credit card will be charged a deposit of one night rack rate. Any remaining balance is due prior to arrival.
Extended Stays
For all stays of one month or longer, a one month deposit up to a maximum deposit of $750 is required at the time of reservation. See below for information about remaining balances.
Electricity is an additional charge.
1 to 3 Months
Balance due on reservation start date.
4 to 5 Months
50% of balance is due on reservation start date.
Final balance due on 1st day of 2nd month of reservation.
6 Months or longer
50% of balance due on reservation start date.
25% of balance due on 1st day of 2nd month of reservation.
Final balance is due on 1st day of 3rd month of reservation.
Annual
Park Model/Tied Down camper: one month deposit is required for new guests.
RV annuals: one month deposit is required.
Monthly payment schedule for annual reservations is subject to good credit history and credit card agreement on file.
The method of payment for deposits is credit or debit card. If a deposit is made in person, cash and/or check are acceptable.
Cancellation and Refund Policy
In the case of multiple sites booked, cancellation penalties apply to each site that is cancelled or changed.
No refunds will be issued for early check-out.
RV campsites: We allow full refunds for cancellations up to 2 days prior to your arrival date for daily and weekly reservations.
Rental accommodations: We allow full refunds for cancellations 7 days prior to your arrival date for daily and weekly reservations.
Daily and weekly reservations: for cancellations received less than the required notice period prior to arrival, your deposit will be forfeited up to one night rack rate.
Extended stays: For long-term reservations (28 days or longer), we allow full refunds for cancellations up to 60 days prior to your arrival date. For cancellations received less than the required notice period prior to arrival, the deposit amount will be held on account for a future stay.
Pet Policy
Pets are allowed.
Rental Pet Policy: Pets are welcome. For those who camp with pets, there is a pet fee of $10 per pet per night for our pet-friendly rental lodging. The fee may vary at select properties. Service animals are not pets. The Company complies with the Americans with Disabilities Act (ADA) and state/local laws regarding service animals. Service animals may accompany a disabled person without any proof of disability or certification for the service animal. Guests traveling with a service animal will not be charged a pet fee. Charges may be incurred, however, should a service animal damage the rental lodging.
Campground Services & Information
Front Desk: (352) 394-7575.
GPS Address: 2110 Thousand Trail Blvd Clermont FL 34714
Mailing Address: 2110 US HWY 27 S Clermont FL 34714
Enjoy year-round camping in the great outdoors at Thousand Trails' network of campgrounds, with spacious campsites, hiking trails, fishing, and family fun.
Loading Signup for Special Offers, Discounts and More!