Hershey RV & Camping Resort
Hershey RV & Camping Resort
Book Now
Not A Member?
Camp all year with a Thousand Trails Camping Pass! Join Now
Hershey RV & Camping Resort
493 S Mt Pleasant Rd, Lebanon, PA 17042 view map
Hershey RV campground near Chocolate World
Hershey RV & Camping Resort is the perfect retreat for couples, families, and groups looking for the quiet campground setting mixed with the excitement of local attractions. Located on 200 acres of farmland in the heart of Pennsylvania Dutch Country, Hershey RV Resort is just six miles from the famous Hershey's Chocolate World, perfect for a family outing. We're also near many Amish settlements and the Indian Echo Caverns. Hershey RV Campground has something for everyone!
Amenities
Clubhouse
Shuffleboard
Swimming Pool
Whirlpool/Spa/Hot Tub
Fishing
WiFi
Pets Welcome
Store
Mini Golf
Restroom/Shower Facilities
Laundry Facilities
Playground
Volleyball
Basketball
Horseshoes
Tennis Courts
Billiards/Game Room
Library
Pickleball
Satellite TV
Rentals
Cottage - Loft (Sleeps 6/No Pets)
These cottages have a fun loft that children will love! They sleep 6 (4 adults/2 children) and include one bedroom with a queen bed, a loft with 2 single mattresses, and a sleeper sofa. These loft cottages are filled with all of the comforts of home including a full kitchen, cookware, utensils, microwave, and TV. Linens are not included. We recommend that guests bring their own bedding and towels.
Although pets are not allowed in these rentals we do allow service animals and a service animal may have stayed in the cottage.
Cottage - Wheelchair Friendly (Sleeps 6/No Pets)
Our 37' wheelchair friendly cottages sleep 6 (4 adults/2 children) and include one bedroom with a double bed, hallway bunk beds, and a full sleeper sofa. The kitchen is fully furnished with a microwave, a full-size refrigerator, and a 4 burner gas stove with oven. Bed and bath linens are not included. We recommend that guests bring their own bedding and towels.
Although pets are not allowed in these rentals we do allow service animals and a service animal may have stayed in the cottage.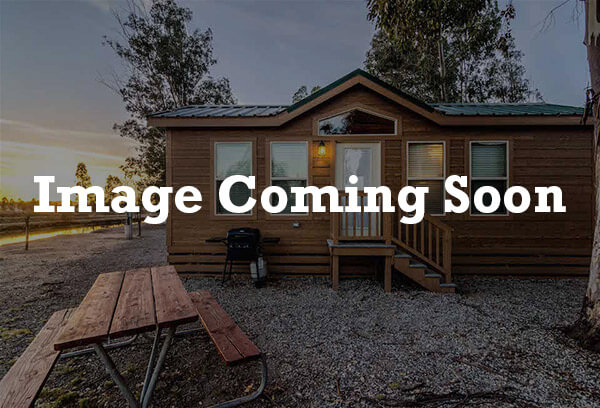 PM Covered Porch
Our park models with a covered porch are the newest addition to our fleet. The unit has an open floor plan in the kitchen and living room area. The unit will accommodate 7 persons, with a queen size bed (separate bedroom), a full size bed and a twin size, set up like bunks in another room. A full size couch will open up to a full size bed.
The unit comes with a full size refrigerator, oven, stove top and a microwave. Dinnerware, pots and pans, a coffee pot and toaster are just some of the included amenities.
Indoor plumbing and air conditioning are also included in the unit. Occupants must provide their own linens, pillows, towels and wash clothes. This unit is a non pet unit.
Activities
Whether you're planning a retreat for the whole family, a group of friends or a getaway for two, there's no shortage of unique activities to explore at Hershey RV & Camping Resort. Plan activities upon arrival or visit this page before your departure to plan ahead. Looking for more? Our friendly staff can fill you in on all of the great ways to make your stay a memorable experience.
We currently offer the following activities:
Activities Director
Bingo/Card Playing
Children's Playground
Childrens Programs - Fee
Kids Activities
Mini Golf
Potlucks
Volleyball
Arts & Crafts
Ceramics - Wood Carving
Children's Program
Dancing
Live Entertainment
Planned Activities
Tournaments
Events
Fast and Furious Weekend
Starts: 07/10/2020 - Ends: 07/12/2020
Summer is flying by and we want to make every minute count! Join us for our super fun soap box race, pie eating contest, water relays, and more.
Motorcycle Run - Annual Bike Run & Craft Show
Starts: 07/17/2020 - Ends: 07/19/2020
This event is your chance to help the PA Wounded Warriors. 100% of the money raised helps the families who have served our great country. You don't have to be a rider to take part in this event. Support our campground artisans by shopping at the craft show. There will be music, raffles, and a special dinner for participants to enjoy while supporting this amazing organization.
Christmas in July Weekend
Starts: 07/24/2020 - Ends: 07/26/2020
Ho! Ho! Ho! - Site decorating contest, snow cones, a holiday craft, and let's not forget about our first ever "Santa Pageant Festival of Splendificence"!
Luau Weekend
Starts: 07/31/2020 - Ends: 08/02/2020
Aloha! Join us for our 19th Annual Hawaiian Luau. Tickets will be on sale on June 1st. Authentic Hawaiian foods and fire dancers. This event always sells-out, so get your tickets while they are available. Call the Country Store to purchase tickets!
Go Bananas Weekend
Starts: 08/07/2020 - Ends: 08/09/2020
What is more a-"peel"ing than having a "bunch" of fun camping? Don't miss your chance to "monkey" around in our minion-ature golf tournament or at the banana split social.
Hershey Greatest Talent Weekend
Starts: 08/14/2020 - Ends: 08/16/2020
Can you sing? Dance? Impersonate? This is your night to show off your talents!
Summer Carnival Weekend
Starts: 08/21/2020 - Ends: 08/23/2020
Enjoy a weekend full of fair food, carnival games, face painting, and family fun for everyone!
Blues Weekend
Starts: 08/28/2020 - Ends: 08/30/2020
Yes, it's the back to school blues! Anything and everything blue for the entire weekend!
Labor Day Weekend
Starts: 09/04/2020 - Ends: 09/07/2020
Saying goodbye to summer is never easy so we squeeze as much into the long weekend as possible. Saturday we'll be having our campground-wide craft and flea market. Later in the evening you can dance the night away with a great band at the Welcome Center Pavilion. Decorate your golf cart for the Patriotic Parade and enjoy music by the pool in a last "hoorah" before it closes for the season.
Pirate Weekend
Starts: 09/18/2020 - Ends: 09/20/2020
Arrrrrgh! September 19th be International Talk Like a Pirate Day. Challenge your ma'ties in a plundering treasure hunt, compete in the scallywag games, walk the plank in the costume contest, and more.
Yarrrr' gone ta be sorrrrrry if you miss it!
Apple Harvest Weekend
Starts: 10/02/2020 - Ends: 10/04/2020
We welcome the harvest season with "Everything Apple." Enjoy wagon rides, the local tradition of making apple butter, other apple themed apple treats, and activities.
1st Haunted Trail
Starts: 10/09/2020 - Ends: 10/12/2020
Be ready to have a "spook"tacular time as Haunted Trail Weekends begin. Ride the wagon to our pumpkin patch and find your perfect pumpkin to decorate or carve. Put your bravery to the test when you take the Haunted Trail Tour. Whatever you do, come hungry! Witches brew, burgers, and baked goods will be on sale at the Lake Pavilion both Friday and Saturday evenings.
2nd Haunted Trail
Starts: 10/16/2020 - Ends: 10/18/2020
More Haunted Trail. More Pumpkin Patch. More Lake Pavilion Goodies. You won't want to miss the annual parade and costume contest, followed by trick-or-treating throughout the park. Our site decorating contest is back. We will announce the official winner on Sunday.
3rd Haunted Trail
Starts: 10/23/2020 - Ends: 10/25/2020
Don't be "scared" about the season ending. Our final weekend is packed with fun things to take part in. In addition to the final week of the Haunted Trail, your goblins can enjoy the costume parade and contest, trick-or-treating, and pumpkin carving.
Policies
General Policies:
RV Check In Time: 12:00 PM
RV Check Out Time: 12:00 PM
Rental Check In Time: 4:00 PM
Rental Check Out Time: 11:00 AM
Upon check-in you may be asked to provide a valid ID, and a certificate of insurance and registration for your unit. Members should also have their membership card on hand.
Minimum Check In age is 21 years old.
The rates displayed do not include any applicable service fees or charges for optional incidentals.
For late arrival arrangements, please contact our Reservation Department at (717) 867-5515.
Helpful Information:
All golf carts driven on property are subject to a registration fee.
All golf carts driven on property must provide proof of insurance on the golf cart.
Please register your golf cart at the Ranger Station upon arrival.
Sites are available on a first come, first serve basis. 50 amp sites are on a first come first serve at an additional fee.
For group bookings, please do not save sites.
Deposit and Payment Schedule:
Daily
Mandatory 2 night stay for weekend reservations, and 3 nights for holiday reservations.
1 night midweek campsite reservations can be booked.
1 night campsite reservation for a weekend can only be booked on the day of arrival. (Overrides can only be approved by the Property Ops. Staff.)
1 night rental reservation can be booked only 48 hours in advance and there is a $10.00 surcharge.
Youe credit card will be charged the itinerary total prior to arrival, up to a maximum of $250.00. Any remaining balance will be due on arrival.
If you cancel your reservation 14 or more days prior to arrival, you will be charged a $25 administratve fee.
If you cancel your reservation within 14 days of arrival, you will forfeit your deposit, up to a maximum of $250.
In the case of multiple sites booked, cancellation penalties apply to each site that is cancelled or changed.
Prices and site type are subject to availability.
No refunds will be issued for early check outs.
If I used a credit card for a deposit, guarantee or payment, I authorize MHC Property Management L.P. to charge any expenses incurred during my stay to that credit card or apply funds you have on deposit with us against what I owe.
Current Weather
Lebanon, PA
95°F
Tue 84
Wed 85
Thu 83
Fri 77
Sat 85